Mireille & Michael,
I am so sorry for your lost. My heart has never felt pain like this before. When I heard the news, I was completely shocked. I will never understand why such a wonderful person was taken away so early in life. Mandla had so much potential and could have done anything she wanted in life. She was going to do great things.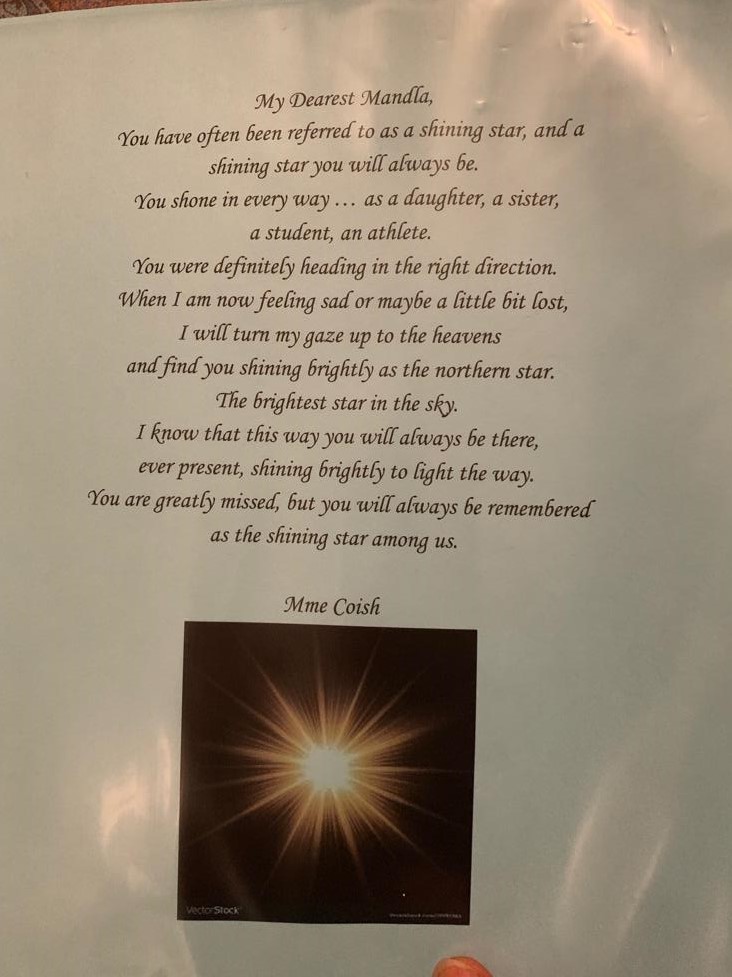 Mandla was a great person with such a big heart. She was talented, she was creative, she was athletic, she was smart, she was funny, she was caring, she was honest, she was genuine, she was helping, she was a great example of what you should be in life. She had so many other qualities that would take me a long time to write.  Mandla and Mlaika were such wonderful big sisters to Mbwani. How much they cared about her, helped her after school, and played with her. When seeing this, it brought so much happiness to my heart.
All the qualities in Mandla I listed above, are qualities that you and Michael have instilled in her and it's the same qualities that instilled in your other two beautiful daughters. Just remember that Mandla's spirit will live in Mlaika and Mbwani. My biggest fear from this terrible tragedy is that you will stop giving your other daughter's an education out of school. I want you to continue traveling with your family, giving them an experience of a lifetime. Keep teaching them to be proud of the culture and who they're. Keep teaching them that kindness will go extremely far. Keep the sense of adventure going because I know Mandla would want you too.
I am extremely grateful that I was able to have Mandla in my class for two years and I have learned so much from her. She taught me that is okay to speak up when you disagree with what someone is doing or thought their actions were wrong. She taught that is easy to care about everyone even if you don't know them. The most important thing that she taught me was to be PROUD of who you are and where you came from.
I wanted to give you a few of my favourite Mandla stories.
When Mandla, Mlaika, and Mbwani hung out. They cared so much for each other even though Mlaika was sassy about it.
Teacher Mandla was always a good time. When she had to give a presentation or teach something for Leader In Me to the class, she would always do it with so much pride and just imbraced the teacher's life. Giving out yellow sheets if she had too.  She would have been such a wonderful teacher.
How much Mandla was scared of birds.  Mandla told me she couldn't face the window anymore because the scary bird was always looking at her. She was so scared of them.
I enjoyed coaching her basketball, badminton, and volleyball. She was always so helpful, so talented, such a great little athlete. She always listened and wanted to improve. She was so coachable.
Spending time with the kids at Balance on Saturday. All the little ones loved her and always wanted to be in her group. Rory and I have so many wonderful pictures and videos of her.
My one memory I will forever cherish is the last day I saw her. It was roughly 9:30 am on the last day of school and Amber just got done presenting her awards to her class. I stood up to start talking and the first award I grab was Mandla's. After explaining the awards to the audience, I said, "And the Leadership Award goes to Mandla." I stuck out my hand to shake her hand but instead, she stood up, had the biggest grin on her face, ran up and gave me the biggest hug.
There is not a day that goes by that I don't think of Mandla and how much all of your family is suffering from your lost. I really hope to see you all soon.
I am not writing this letter for a response. I don't even know if I will ever see you again. I am writing this letter to help me heal and find a purpose again.
Alix Meesho